Funny Email Jokes
This Funny Email Jokes site has evolved over the years. It started out with funny email templates that you could modify by just adding a few X's. (That allowed you to create your own humor for your friends.) You can still do that if that's why you came to this site, simply by clicking here.
But NOW IT'S MORE ABOUT JOKES AND HUMOR THAN TEMPLATES. So, if after looking around a bit, you like my sense of humor, then make sure you find one of the purple boxes (like the one below), sign up, and I'll let you know whenever I add something funny to the site.
I promise, that's all your name and email address will be used for and you will be able to opt out at any time.

So, when something funny comes along, I'll send you a notice and you can have a look. (It won't be every day and it won't be something that you can't show your mom or your kids.) I've been doing exactly the same thing with a group of friends now for close to a decade and they seem to be happy with the arrangement.)

By the way, they also send me funny things they've found on the Internet and they comment on things that I've sent to them AND I EXPECT YOU TO DO THE SAME! (That way, we're not likely to miss anything funny making the rounds.) 

So, if you're already convinced it's a good thing, go ahead and sign up now. It'll only take a minute. 
Sign Up For A FREE SMILE!
---
Funny Email Blog
Click here if you want to see what I have sent out to subscribers lately.
---
Click Below For More Unique Fun And Funny Email Jokes!
For those of you who remember the old Funny Email Jokes site, you will now likely notice that I have dropped the left and right columns that used to contain links to my other pages. (They just made the center "Content" column too small on smart phones.)
Instead, what I have done is put everything under one of 10 "Drop Down" tabs at the top. That gave me more space. I hope you can still find what you are looking for.
I've put the same 10 links below and that may help you as well. Scroll down the page until you find something of interest and then click on the picture.
Go ahead, start clicking now!
---
Jokes
This section continues to grow as I find new "funny" jokes to highlight.
---
Greeting Cards
Greeting cards on the Internet often lack humor. Replace the standard verbiage with any of these templates.
---
Cartoons And Comics
I changed some of my favorite funny email jokes into cartoons and comics. Now you can send them with your funny messages. (They are unique!)
---
Funny Email
This was where it all started. Here unique, funny email messages can be created and sent by anyone - quickly and easily.
---
Funny Business Email
Use these free business email templates to bring some humor to an otherwise staid environment. (Be aware however, that many businesses have a distinct lack of humor!)
---
Songs
Here are just a few songs I've made up from old rock and roll songs to poke fun at something. (I get bored easily!)
---
People Networking
If you want to be a better group leader (or make your group better) then take a look at work I've done in this area. I call it Familizing!
---
Contact Me
Contact me or just find out more about me and the website.
---
Money
I make money from this website by doing something I like and you could do that too. If you've had that thought, then check out this page.
---
Miscellaneous
This is obviously where I throw everything that doesn't fit anywhere else. (Things like Funny Motorcycle Videos, because I didn't know what else to do with them!) Clicking the picture here will take you to the motorcycle video as I don't have a page called Miscellaneous yet! You may be better off running your cursor over the Misc. tab in the top right of the page to see what else is listed there.
---
And Don't Forget...
I'll send you the good, funny email jokes as they come along if you give me your first name and email address in the form below.
---
Funny, Unique Gift Of The Week
If you're looking for a gift for someone that very few other people will have, then click on the mug below!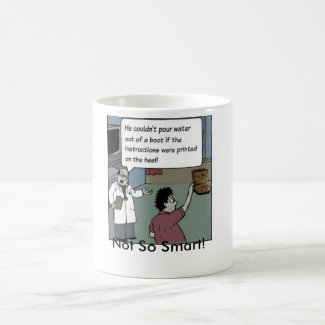 Not So Smart! Mugs
by
funnyemail
View other
Funny Mugs
You can have one of my unique cartoons printed on an I-Pad case, an I-phone, a poster, a hoodie, a poster, a t-shirt, a ball cap and many more things, and then have it delivered to your door!
---
Please note that the "What's New?" section below is updated whenever something I think is funny comes along, therefore some of these "New" blogs further down the page may already have been replaced by the time you click on them!
---
Like Us On Facebook Or Comment On The Site Below...
---
Important!
Click on an ad before you leave the site! (That's what pays the bills.)