Good Joke
(Do You Have One You Can Share With Us?)
---
Here's a good joke I got recently. Take a look at it and then decide whether you think it's funny or not. 

Do you know a better one?
If you've got a joke you think is funny, then copy and paste it or type it in the form below and I'll give you YOUR OWN FREE WEB PAGE FOR IT!

You can then send the URL of the page to your friends and relatives and they can comment on it along with any of the thousands of other visitors to this site.

We all get sent funny email messages or funny cartoons from time to time. You can pass them along to your friends.

But why not post them on this site so that many others can enjoy them as well. I simply can't find them all. I need your help! It only takes a minute to copy your good joke into the box, then it's done, so spread the fun!
Cheers,
Darry
---
Nothing To Join!
It's FAST and EASY to do and you don't have to join anything!

You've likely spent longer reading this page then you will spend submitting your good joke! So go ahead, check out the joke below and then send me a better one.
---
Jewish And Italian Mothers
JEWISH MOTHER   
The year is 2016 and the United States has elected the first woman President, Susan Goldfarb.  She calls up her mother a few weeks after Election Day and says, 'So, Mom, I assume you'll be coming to my inauguration?' 
  
'I don't think so. It's a ten hour drive, your father isn't as young as he used to be, and my arthritis is acting up again.' 'Don't worry about it Mom, I'll send Air Force One to pick you up and take you home and a limousine will pick you up at your door.'
   
'I don't know. Everybody will be so fancy-schmantzy, what on earth would I wear?' Susan replies, 'I'll make sure you have a wonderful gown custom-made by the best designer in New York.'
   
'Honey,' Mom complains, 'you know I can't eat those rich foods you and your friends like to eat.' The President-to-be responds, 'Don't worry Mom. The entire affair is going to be handled by the best caterer in New York, kosher all the way. Mom, I really want you to come.'
   
So Mom reluctantly agrees and on January 20, 2017, Susan Goldfarb is being sworn in as President of the United States.  In the front row sits the new President's mother, who leans over to a senator sitting next to her and says, 'You see that woman over there with her hand on the Torah, becoming President of the United States?
  
The Senator whispers back, 'Yes I do.'
   
Mom says proudly, 'Her brother is a doctor'!
  
***************************************************************************
ITALIAN MOTHER
Giuseppe excitedly tells his mother he's fallen in love and that he is going to get married.
    
He says, 'Just for fun, Mama, I'm going to bring over three women and you try and guess which one I'm going to marry.'  The mother agrees.
   
The next day, he brings three beautiful women into the house, sits them down on the couch & they chat for a while.  He then says, 'Okay, Mama, guess which one I'm going to marry?'
  
Mama says immediately, 'The one on the right.'
   
'That's amazing, Mama.  You're right.  How did you know? '
   
Mama replies: 'I don't like her."
---
What's Your Funny Joke?
Get your own free web page for your good joke. If someone sends you a funny joke, copy and paste it here and you'll get credit for furthering humor in our world. (Or, just type it in.)

It's that easy!
Jokes From All Over
---
Click below to see jokes from other people.

The C-Nile Virus Not rated yet
Symptoms: 1. Causes you to send the same e-mail twice. (Done that!) 2. Causes you to send a blank e-mail! (That too!) 3. Causes you to send…
---
Go and see what I think is funny. I post jokes on this page that I personally think are funny. There are only a couple there because I change them whenever another good joke comes along.
Go see what I've done with my cartoons. (Basically, if I see a short joke that I like, then I try and make it into a cartoon.)

If you come across any that you think would make a good cartoon, then send them to me there.
I've started a "FUNNY OR NOT" page where you can go and tell people whether you think a joke is funny or not by voting on it. Then compare your sense of humor to others that have voted.

Go ahead, voice your opinion.
Funny Email For Everyone Home Page
Click here to go from this Good Joke page to the Funny Email For Everyone home page and your choice of personal, business or greeting card "funny email templates".

Let's spread some humor!
---
Funny, Unique Gift Of The Week
If you're looking for a gift for someone that very few other people will have, then click on the mug below!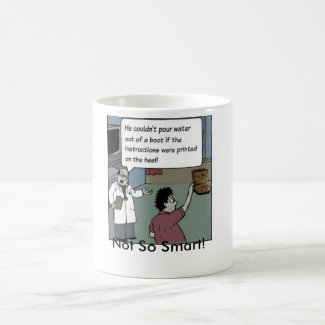 Not So Smart! Mugs
by
funnyemail
View other
Funny Mugs
You can have one of my unique cartoons printed on an I-Pad case, an I-phone, a poster, a hoodie, a poster, a t-shirt, a ball cap and many more things, and then have it delivered to your door!
---
Please note that the "What's New?" section below is updated whenever something I think is funny comes along, therefore some of these "New" blogs further down the page may already have been replaced by the time you click on them!
Like Us On Facebook Or Comment On The Site Below...
---
Important!
Click on an ad before you leave the site! (That's what pays the bills.)