Good Joke
(Do You Have One You Can Share With Us?)
---
Here's a good joke I got recently. Take a look at it and then decide whether you think it's funny or not. 

Do you know a better one?
If you've got a joke you think is funny, then copy and paste it or type it in the form below and I'll give you YOUR OWN FREE WEB PAGE FOR IT!

You can then send the URL of the page to your friends and relatives and they can comment on it along with any of the thousands of other visitors to this site.

We all get sent funny email messages or funny cartoons from time to time. You can pass them along to your friends.

But why not post them on this site so that many others can enjoy them as well. I simply can't find them all. I need your help! It only takes a minute to copy your good joke into the box, then it's done, so spread the fun!
Cheers,
Darry
Nothing To Join!
---
It's FAST and EASY to do and you don't have to join anything!

You've likely spent longer reading this page then you will spend submitting your good joke! So go ahead, check out the joke below and then send me a better one.
---
Male Logic
Woman: Do you drink beer?
Man: Yes
Woman: How many beers a day?

Man: Usually about 3.

Woman: How much do you pay per beer?

Man: $5.00 which includes a tip.

(This is where it gets scary !)

Woman: And how long have you been drinking?

Man: About 20-years, I suppose.

Woman: So a beer costs $5 and you have 3 beers a day which puts your spending each month at $450. In one year, it would be approximately $5400…correct?

Man: Correct

Woman: If in 1-year you spend $5400, not accounting for inflation, the past 20-years puts your spending at $108,000, correct?

Man: Correct.

Woman: Do you know that if you didn't drink so much beer, that money could have been put in a step-up interest savings account and after accounting for compound interest for the past 20 years, you could have now bought a Ferrari?

Man: Do you drink beer?

Woman: No.

Man: Where's your Ferrari?
---
What's Your Funny Joke?
Get your own free web page for your good joke. If someone sends you a funny joke, copy and paste it here and you'll get credit for furthering humor in our world. (Or, just type it in.)

It's that easy!
Jokes From All Over
---
Click below to see jokes from other people.

The C-Nile Virus Not rated yet
Symptoms: 1. Causes you to send the same e-mail twice. (Done that!) 2. Causes you to send a blank e-mail! (That too!) 3. Causes you to send …
---
Go and see what I think is funny. I post jokes on this page that I personally think are funny. There are only a couple there because I change them whenever another good joke comes along.
Go see what I've done with my cartoons. (Basically, if I see a short joke that I like, then I try and make it into a cartoon.)

If you come across any that you think would make a good cartoon, then send them to me there.
I've started a "FUNNY OR NOT" page where you can go and tell people whether you think a joke is funny or not by voting on it. Then compare your sense of humor to others that have voted.

Go ahead, voice your opinion.
Funny Email For Everyone Home Page
Click here to go from this Good Joke page to the Funny Email For Everyone home page and your choice of personal, business or greeting card "funny email templates".

Let's spread some humor!
---
Funny, Unique Gift Of The Week
If you're looking for a gift for someone that very few other people will have, then click on the picture below!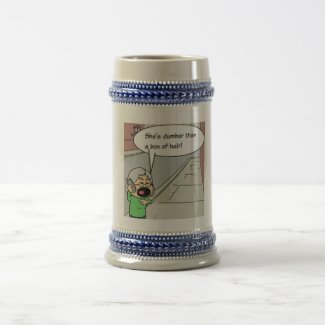 A mug with a "unique" cartoon on it!
by
funnyemail
See more
Humor Mugs
You can have one of my unique cartoons printed on a mug, a hoodie, a t-shirt, a ball cap and many more things, and then have it delivered to your door!
---
You Can Also RSS This Page...
Or Comment On It Or Like It On Facebook Below...
---
Free Contest Below!
Lots of great prizes over the next few weeks. If you've ever thought of "working from home", then click on the box below:

Important!
Click on an ad before you leave the site! (That's what pays the bills.)